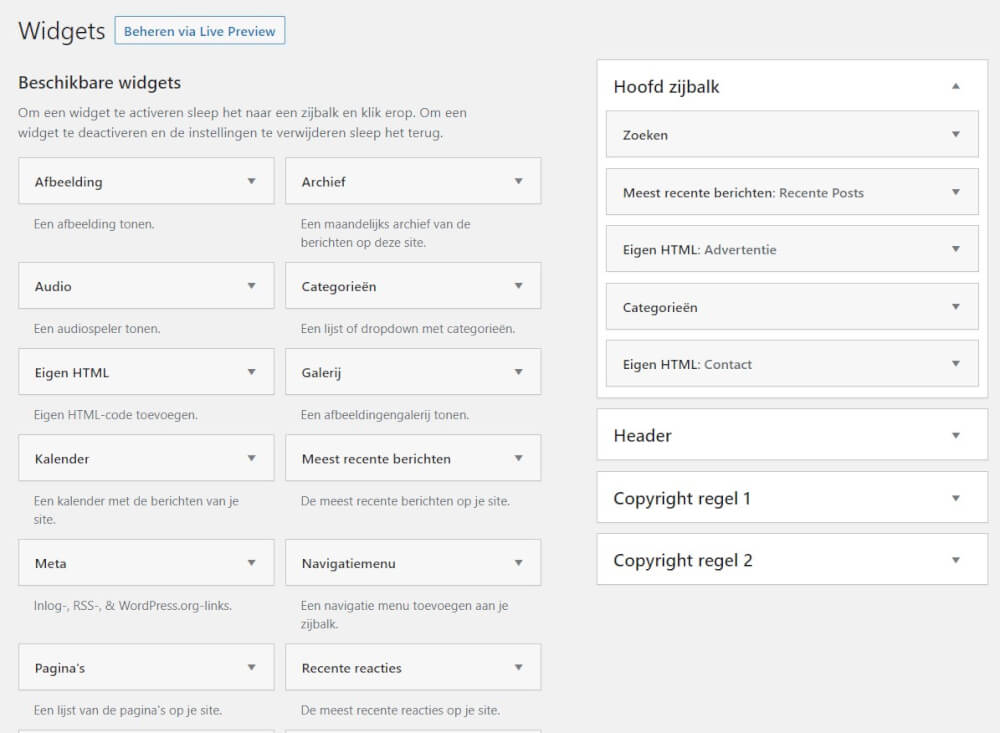 Using Widgets within WordPress
Using widgets within WordPress forms the basis of customizing your WordPress website. With widgets it is possible to add a lot of extra functionality to your WordPress website. And get the most out of it for yourself and your visitors. In this blog post we will discuss how to set this up. And how you can benefit from it.
Widgets are small tools or functionality that allow you to add extra functionality to your WordPress website. From adding a search function to your website, to adding standard information that you want to be displayed on every website. These tools allow you to add extra things in addition to your theme settings and layout that can be added in almost any theme as well. So this is useful for when you change themes, or want to add extra things. Let's start with adding and creating widgets within WordPress.
Creating widgets within WordPress
Widgets can be created in two places within WordPress, namely directly from the WordPress administrator environment with Widgets, or via the customizer. Which everyone will be familiar with. There are already a lot of standard widgets available that can be customized to your own settings, or you can create your own by putting plain HTML in them. A common feature is to put your contact information in there. So that customers can reach you on any screen or page of your website.
Widgets can also be created with your own HTML, and with a basic knowledge of HTML can be adjusted to your wishes. Without having to use a lot of coding skills. In this way you can also create and set a lot of things yourself without having to install a plugin. An item we at MijnHostingPartner.nl are fans of. Because more plugins than necessary are not needed or recommended for WordPress websites. So first check if you can customize or create a widget for this before you install a plugin for this directly within the WordPress hosting.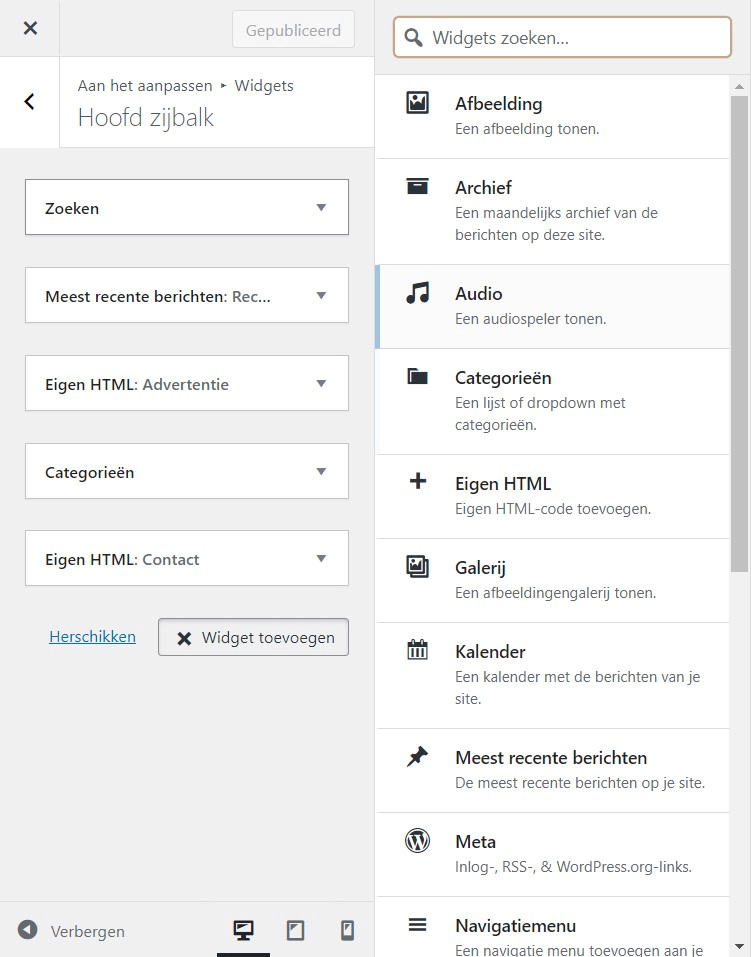 Widgets for videos, search functions and more
WordPress has already created Widgets that can be used directly for a lot of functionality that you might be looking for. Videos can be used directly for this. Images can be shown or a custom HTML put in. There are also widgets that in the past had more impact on website results than they do now. Like a tag cloud or RSS feed that weighed more in the earlier years of WordPress. But have now lost their importance. Which I'm referring more to for Google search results and optimizing for them.
Things like a tag cloud used to have an advantage for SEO, but have now lost much of their importance. The main issue now is whether it adds anything for the user. A list with your categories of posts and articles is more useful than a tag cloud for the user. And is many times easier to navigate in.
Location options of Widgets
Placing widgets in multiple locations is obviously important for the layout of your WordPress website. With a standard format on your website you not only give visitors better navigation, but also search engine crawlers who expect certain things on your website. With a fixed place for contact information in the footer and header, for example, customers or visitors always know where to find it. And if you want to have a fixed ad in the sidebar next to an article, this is easy to apply via a Widget. Just select custom HTML, copy the ad code from Google AdSense and insert it into the Widget. That's all it takes to have an automatic ad displayed on the side of your posts. Or directly on the home page. The choice is yours.
With just a small adjustment you can make sure that your website looks and works unique. And you can add just that functionality for your visitors they are looking for. So use WordPress widgets within your WordPress website hosting and make a success of your website together with your hosting partner, MijnHostingPartner.nl!