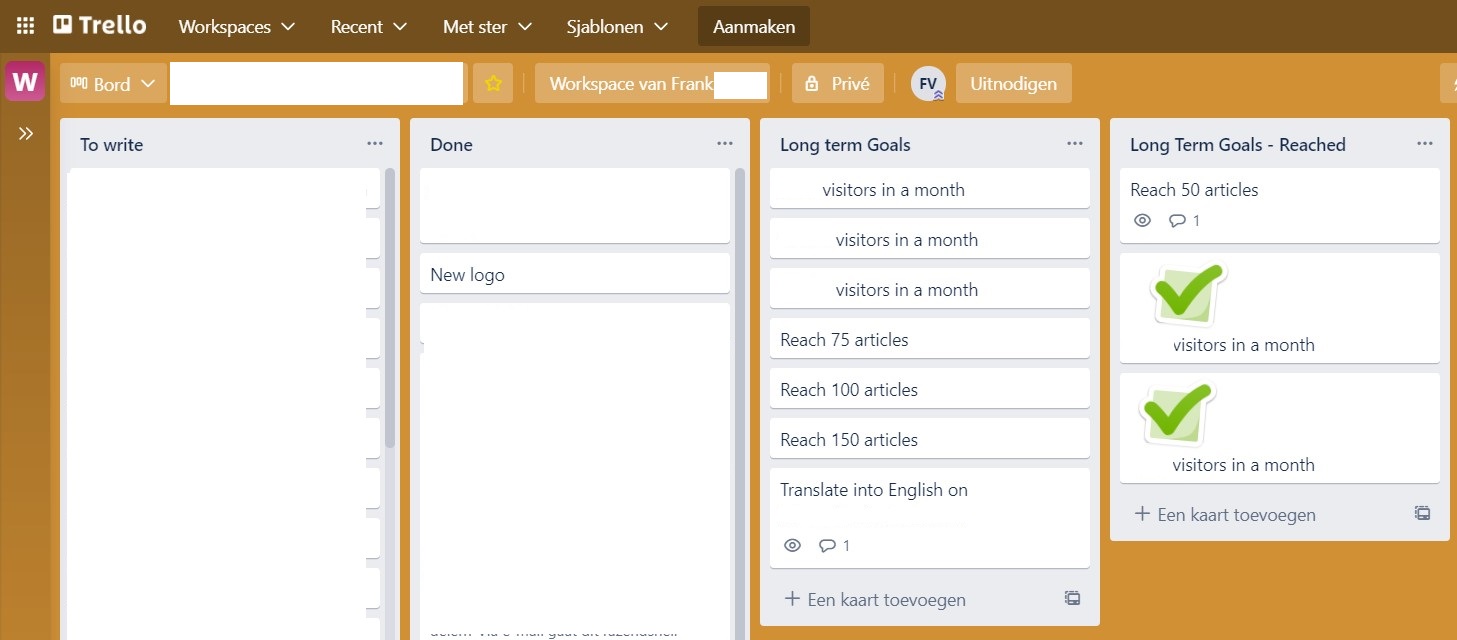 There are many tasks that need to be completed on a website, whether it's a business website, a freelance website, a blog, or a portfolio website. There are many tools you can use to keep the work process clear for yourself. One quick and easy way to do this is to use Trello. In today's blog post, we're going to look at how you can use this tool to organize your website!
Trello is a tool used by many programmers to keep track of their projects. Of course, you as an internet marketer, webmaster, or enthusiast can simply create a website in a CMS like WordPress without programming. But you can still use Trello to organize your goals for the website. With Trello, you can create a virtual whiteboard where you can easily work with various luxury techniques like Scrum and Agile. Or just keep track of your workflow.
Daily activities on an existing website.
We've covered this several times before in various blog posts, but working on your website doesn't just end when you've created it. A website also needs content, updates, and maintenance. And of course, with a web store or business website, there is a customer aspect. I like dealing with customers and communicating with them. With a website and of course your business, you have daily activities. To make this clear for you or your employees, you can also use Trello. A board can be created with a recurring action that is automatically created. For example, checking and responding to emails, reviewing tickets, or sending out orders. To give just one example.
Writing an article every day can also be part of a task. For example, in the form of a blog post, a reply to a message, or a post on social media. You can also make this a recurring task that you can use to structure your daily work. And it's really nice to drag an item to the Done tab, if I do say so myself. It works just like a physical whiteboard.
You can use Trello for free for personal projects, but if you want to collaborate and have access to more features, you can also upgrade to the Trello tool. Then you can also upgrade to the Pro account, which of course comes at some cost. You can find more information on the Trello website.
Setting up and creating a new website always involves a lot of work that needs to be monitored one way or another. Think about setting up a web hosting space, installing WordPress, installing the theme and the required plug-ins. Then you need to set up the website and fill it with content. It's important to keep these things in order so you don't forget anything essential, but also so you can finish faster.
There's a lot to consider with a website, and especially when creating a new one, you may have a lot of questions. So take a look at our knowledge base and blog posts for more information. We have explained many steps that can help you. Especially if you are setting up a new website.
I also track longer-term goals in Trello for a number of personal projects. This always gives you motivation and more importantly perspective on how far you've come. These sites have more content as a main goal, which always means a lot of work. When you reach a milestone like 100 articles, it's nice to pause and look back at what you've accomplished. You can also put things in here like your first thousand visitors from Google and website visitors in general.
Daily goals or recurring tasks can also be automatically created here. This is easy if you have a specific goal of content you want to create and publish each month. You can also create your keyword list or task list in Trello. This will help you better organize your website and work with your hosting partner to achieve your website goals. Become our partner now and buy a hosting package at MijnHostingPartner.nl. For less than a week of shopping you already have a year of hosting and a domain name!