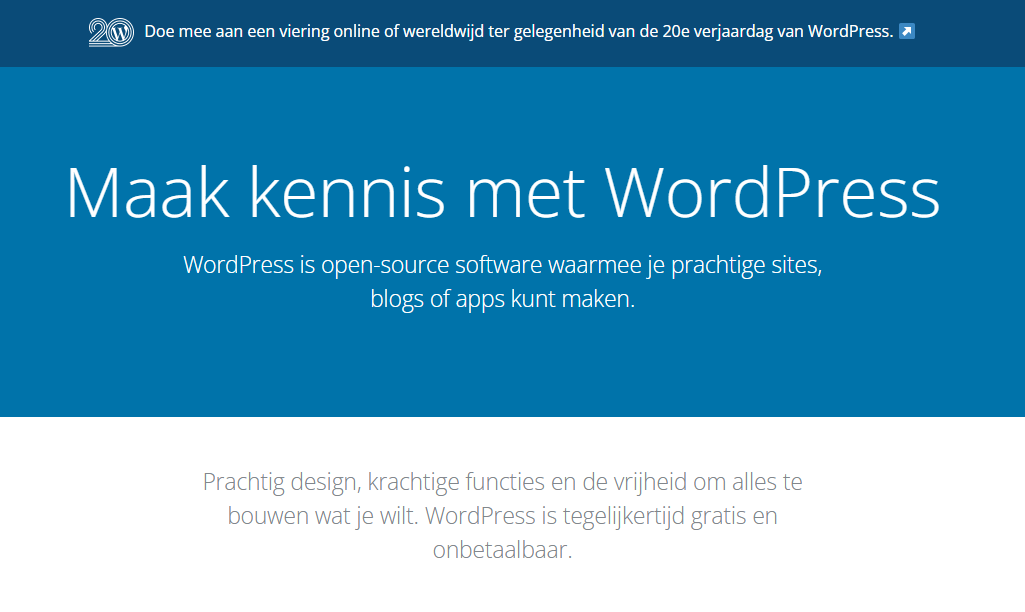 What is the next step after installing WordPress?
With a WordPress website, anyone can easily create a website, as long as you are prepared to do some homework and read up on it. WordPress itself is installed with one click at MijnHostingPartner.com, but after that you may still have questions about what happens next. In this blog post, we want to take a closer look at what comes next and approximately how much time you will spend on it. Let's go!
Checking the website permissions
Once WordPress is installed, it's important to check your website permissions and security settings. If the read and write permissions are set correctly, you can avoid a lot of hassle, but in the early stages of your website, you may still need full write permissions in some situations. You can set this by logging into the customer panel and then following the steps in the knowledge base article .
Choosing a theme is like designing your home - it determines the overall look and functionality of your website. Browse through the various themes available in the WordPress theme library or, if you have more money to spend, you can also look for a paid theme from third-party providers. Make sure that the theme you choose matches the type of website you have, is user-friendly and fast. Always pay attention to the ratings of a theme and whether it is updated regularly. This is very important.

With free themes you can of course experiment to your heart's content, but keep in mind that blindly installing and removing themes can sometimes leave contamination in your database. In other words, the underlying storage method. We therefore recommend that if you plan to test a number of themes, you do so on a subdomain first, or after you've made the decision to install WordPress cleanly for a while.
Getting started with the theme
Once you have installed a theme, you can start working with it. Customize the settings, add your logo, set the colors and create the page layouts you want. This may take some experimentation until everything is perfect. And in WordPress, you have several ways to do this. The new block editor from WordPress, the WordPress Customiser and a third-party page builder. Everyone has their own preferences, but in general, we recommend trying the block editor or customizer first before installing a page builder. If you look in the details of a theme, it will state which technique can be used for it.

You can experiment with the theme and customize it until you drop, or you can work on it for an hour in total to make it to your liking. This also depends on your own wishes for the website and how unique you want it to look. For many, an off-the-shelf theme with a few tweaks is enough, while others want to customize every detail and color. So it's up to you how much time you spend on it.
Some guidelines for uploading images and media
Images and media are important to make your website attractive, but files that are too large can slow down the loading time. Make sure you optimize images for the web before you upload them, e.g. by editing them quickly with a simple program like Paint. And resize them to 1200 x 900 or whatever you need exactly. After all, the pictures you take with your phone are 4K in most cases. And far too large for use on a website. Don't edit them within WordPress either, as this will result in clutter and unnecessary memory usage. This is because WordPress saves the same image multiple times and won't get it as small if you edit it locally on your computer first. It sounds difficult, but it's a matter of two seconds once you've done it a few times.
Are you missing features? Plug-ins can add even more to your website
WordPress plug-ins extend the functionality of your website. Whether you need a contact form, SEO optimization, e-commerce features or something else, there's most likely a plugin for it. However, only install reliable plugins from trusted sources to avoid compatibility and security issues. And try to install as few plug-ins as possible overall, less than eight is highly recommended.
Regular backups and security measures
Think of security and backups as a kind of insurance policy for your website. Perform regular backups to prevent data loss and take security measures to minimize hacker attacks. Set up a scheduled backup task via the control panel and make sure you update WordPress and plugins at least monthly. For example, make this a calendar entry to check your website every month. This will keep you one step ahead of many things.
A website is never "finished". Test, analyze and optimize it constantly. Use tools like Google Analytics to understand and track user traffic and behavior on your website. Based on this, you can make adjustments to improve the performance of your website.

With these steps, you can create a solid foundation for a well-functioning and attractive WordPress website. To ensure that you can also rely on a solid foundation for your website, you should also purchase a hosting package from MijnHostingPartner.com. Have fun setting up your WordPress website!