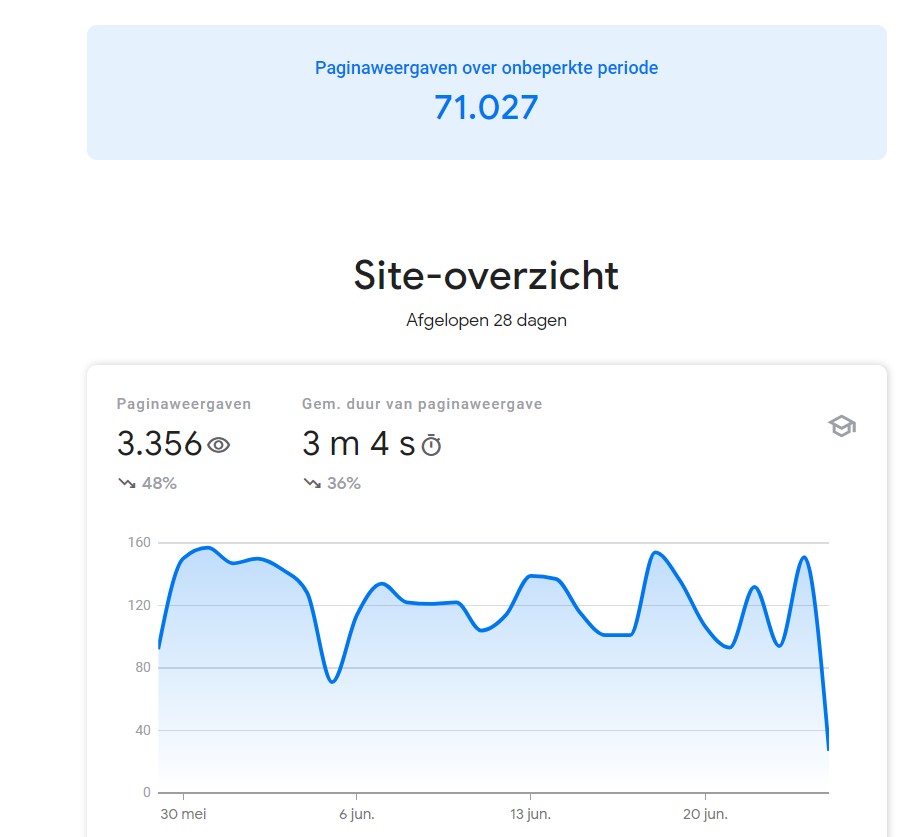 If you've been running a website for some time, you may decide at some point to make a major change. For example, think about a different look in the form of a theme. A new domain name or even a completely different content management system. There are a number of things you need to consider when making such changes. We will discuss them in this blog post.
Why do you want to make a big change to your website?
Sometimes it's not about making a big change to a website, but rather an emergency. For example, with a major leak in a WordPress theme or another theme, you may need to change it quickly. With a content management system like WordPress, this can be done quite easily and without any hassles or changes. Still, this can have a big impact on your daily results in terms of the number of visitors from search engines like Google.
A second reason for making such a big change to a website may be that your website is not supported or suitable for devices such as mobile phones or tablets, and therefore needs a big change. If you are not suitable for such devices, you are missing out on a lot of opportunities in terms of visitors and sales.
New websites that are suitable for mobile devices can therefore provide an enjoyable experience for new visitors and show your existing customers that your business has not stood still in time. Many restaurants or hardware and software companies still use a website in pure HTML, which doesn't amount to much compared to a business card.Hosting an interactive website that provides relevant information to visitors and can inform, activate and motivate them. You can have a much more enjoyable experience with your business website.
Would you like to learn more about website building? Then you can also take a look at our partner MijnWebdesignPartner.nl, here we offer a suitable solution for every business that is modern, secure and quickly available for your customers.
What is recommended by Google?
Websites have of course the goal to be found by the biggest search engine, and that is of course Google. It is therefore often advisable not only to build the website itself, but also to follow Google's rules or guidelines. Google's goal is to provide the user with the best result for a search. It does not matter if it is an ad or a normal organic search result.
Google recently mentioned in an interview or a weekly update that revamping the look and feel of a website doesn't have a huge impact on search results. However, if the new look provides a better experience for the end user, it can lead to better search results in the long run. It was also mentioned that a simple change in website URL or change from www to non-www should also be initiated and corrected within a week. Moving an entire website to a new domain and URL structure is difficult for Google to interpret and needs to be reviewed and redirected URL by URL. Anyone thinking about this will have to scratch their head twice. This could have drastic consequences for your business and its results.
You might also think that this can only impact your organic results. However, this also applies to advertising costs: if customers or potential customers click on your ad and then quickly click away, this can have a negative impact. Google can also lower your website's quality score, meaning you have to pay more to be at the top than your competitor.
Web design and customer experience are therefore always important issues. If you decide to change themes, you need to make sure that your URLs stay the same and that your customers are comfortable with that. And if you decide to switch to a new domain with a different content management system, then you need to do your homework to make sure this is done correctly. And it may be months before all your pages are correctly indexed in Google again.
So always be aware of major changes within your site and do your homework by taking a full inventory of the URLs, saving the current sitemap for example. And make sure everything is properly labeled. Also, you can always rely on our services at MijnWebdesignPartner.nl. We'll be happy to help you take your website to new heights.