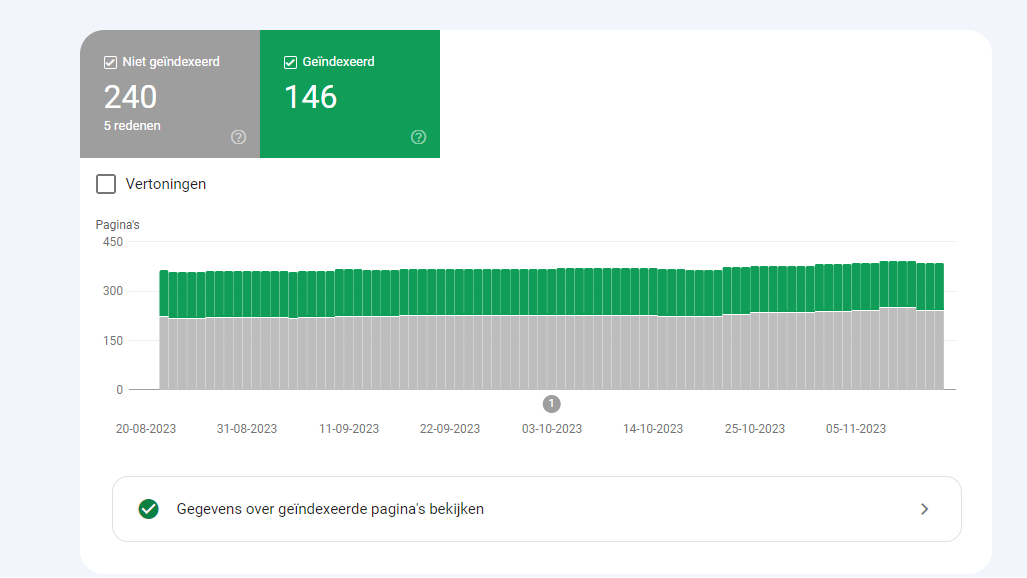 Fixing problems in the Google search view
The organic search traffic that comes to a website via Google often makes up a considerable proportion of the total traffic. It is therefore important to monitor this area closely. If you are experiencing issues with your website's display in Google search results, Google Search Console is key to identifying and resolving these issues. Let's take a closer look at the specific issues you can tackle with this tool.
One of the first things you should check for are indexing issues. If your pages aren't indexed, they won't show up in search results. You can use Google Search Console to check which pages have been indexed and whether any errors have occurred. You can also see what the overall reason for this was. Often it is an error on the page itself or the fact that it has not yet been entered in your sitemap. You can have another page reindexed in the Google Search Console and thus resolve the problems. Do not switch on reindexing before you have fixed the problems, as this can lead to an incorrect result.
Correct use of relevant keywords is essential for good visibility in search results. With this tool, you can view the performance of specific keywords and see which pages these words appear on most frequently. This helps to understand whether your content is properly aligned with users' search queries. To do this, enter your page or URL in the search results and see for which keywords it appears most frequently. This way you can check whether the keywords you have chosen match what Google sees for them.
Technical errors and improvements
Google Search Console also provides insights into technical errors on your website, such as broken links, loading times and mobile usability. Fixing these issues will not only improve the user experience, but also your chances of ranking higher in the search results. So take a look at the relevant reports and note that your website is considered separately for desktop and mobile devices in these reports. Of course, you should try to rank as well as possible for both. You can often achieve this by caching your website and ensuring that your content is displayed correctly.
Structured data and rich snippets
Adding structured data to your website can lead to rich snippets in search results, such as review stars, event data and FAQs. You can use Google Search Console to check whether this data is displayed correctly and make improvements if necessary. Rich snippets are not a decisive factor in getting your search result to the first position, but they are certainly helpful if your competition is not using them. Every stroke you can make forward in this area is a bonus. And it could mean the difference to a third or higher position. A simple rich snippet you can use for larger pages is a table of contents with "jumpable" links. These links or parts of the page can then reappear directly in the search results.
have the most backlinks. This helps you to improve the quality of your backlink profile and eliminate unwanted links. Opinions on how important backlinks are in 2023 change frequently, but several studies claim that relevant and high-quality backlinks still have a noticeable impact on your search results. So try to maintain some quality control here and disavow SPAM links.

By regularly consulting Google Search Console and addressing these issues, you can optimize your website's performance in search results and improve the user experience.