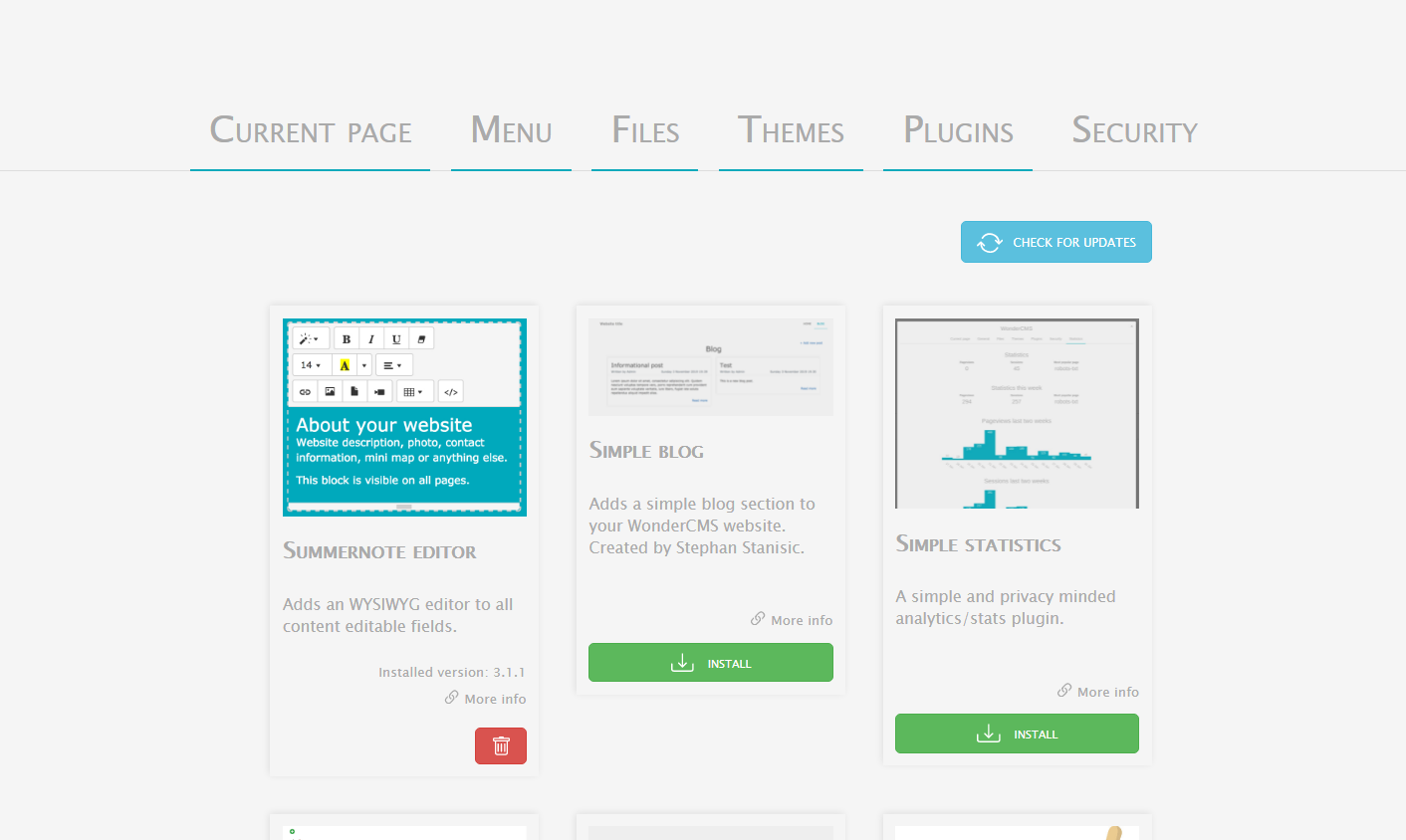 It is often the case that both beginners and experienced users have a limited choice of content management systems. Of course, you can do a lot with content management systems like WordPress, Joomla, Drupal, and Umbraco. So why should you look further than these options? That's a question you can ask yourself. In today's blog post, we're going to take a look at WonderCMS. A small, but quite popular CMS that aims to be as lightweight and simple as possible. Let's get started!
WonderCMS began in 2008 as a way to easily create and maintain websites with a focus on security, simplicity, and speed. What the market is naturally saturated with is content management systems, which have numerous functionalities. And therefore flooded with different features. Which a large portion of websites don't even need. WonderCMS can therefore be a good choice for those who want to set up a simple contact page or website. Which is just to serve as a business card for your company. While you still have the option to install themes and plugins. Let's go over all the features!
Installing WonderCMS was incredibly easy, and I haven't done a knowledge base article on it yet. If you are interested in doing so, please contact us. To install, download the installation package and upload it to your hosting package in the wwwroot folder. And then make some changes to web.config with write permissions turned on. That's all it takes. For anyone who has already created a website in WordPress or elsewhere, this will be easy as well. But again, if it's nicer to have a manual for it, just call.
Even with a small, simple website, you want it to look decent. With a content management system, it's intentional that you don't have to code everything yourself. The same goes for the theme. WonderCMS has a number of themes that you can install with a few clicks. These themes aren't fancy, but they get the job done for a large number of simpler websites.
There is also a WYSIWYG editor available that allows you to type your text normally. There is no need to use a language like Markdown. A drawback in my eyes with other flat file CMS options. There are also a number of plug-ins you can use to customize your site.
It's also possible to make WonderCMS Dutch, in addition to the default English, by using a plugin. This would be easy for anyone who needs to deliver a website to a client who wants to use a simple CMS, but can be delivered in Dutch.
WonderCMS also allows you to customize the website to your liking, though not in the same way you can with a content management system like WordPress or others. It's also not the target audience WonderCMS has in mind. But the small businesses, they need a business card, with address, a number of clients and services on it. It can be perfect for that, of course.
Extremely fast loading times
WonderCMS is small and doesn't have a traditional database in MySQL, MS SQL or MariaDB like other content management systems. This makes it super fast and easy to set up. And also to get from one site to another. With no database connection and queries, a website is lightning fast. No database poses a security risk as all data is stored in a flat file in the folder structure. Therefore, it is highly recommended to always copy the Web.config as mentioned in the Github. This will ensure that the database cannot be downloaded from the web.
Are you going to install WonderCMS in a subdomain to check out the possibilities? Just install it within your hosting package with a subdomain, or on your main domain of course. To play around with this interesting content management system right away.