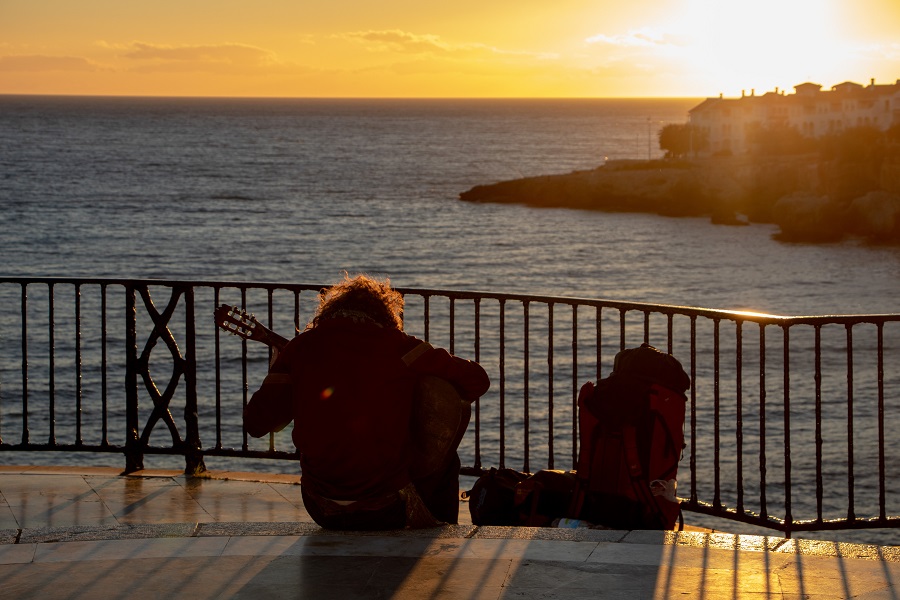 Website for artists
If you are an artist looking for ways and options to build a website, you may be overwhelmed by the options available and how to go about it all. There are several ways to build a website for you. This blog post will list the most useful of them. And how you can get started at a low cost!
It doesn't matter what kind of artist you are: Painter, musician, visual artist, or anything in between. With a website, you can make sure your work is better noticed. And you can take advantage of new opportunities 24/7 through the website in the form of a commission, a booking, or simply a completed contact form. Read on to find out what the benefits of a website are for your work!
A website is the central point
The biggest advantage of a website is that it becomes the central point or gathering point for all your work and contacts. You can always refer to a website where you can find a complete collection of your past work in a portfolio or place an order right away. Besides, a website is always ready for you and with your own email address you can also communicate professionally with clients and colleagues.
Domain name, what is it exactly?
With a website, a domain name is also beneficial, because it ensures that your website can be easily found on the Internet. Since we use MijnHostingPartner.nl for the website, you can use your own name for it, or choose another suitable domain name. This is otherwise fully customizable and can also be changed to your artist name. Pretty much the only rule is that the domain name must be free. Once the domain name is already registered by another party, it can become almost impossible to get it. Or a considerable amount of money has to be paid for it.
You can check if your domain name is still available directly from our website and register it in real time. The extension of the domain name is then the only consideration you need to make. This is the name that comes after the domain name. For example, this can be a .nl, .be or .eu domain name. But also an internationally recognized one like .com. If you want to offer your services and your art only in the Netherlands, a .nl domain name is the right way to do it. Worldwide a .com and within the European Union a .eu domain name. There are other, more exotic flavors available that can also be registered as desired. If you have any questions about this, you can always come online to chat.
Create the website yourself - WordPress
Creating a website yourself can be done in many different ways. The most popular and well-known way is to create it using the WordPress content management system. It is a method that was originally designed to help anyone get started with a blog. But over time, it has evolved into a full-fledged method of creating your website. From a blog to an artist portfolio to a business website. With its many themes and plug-ins, it's easy to expand as you see fit.
WordPress has the great advantage that almost everything on your website can be controlled without any programming knowledge. With the help of a visual editor, you can work as if you were using Microsoft Word. And by adding blocks, you can enable fun elements and other things on your website.
WordPress can be installed with a click of a mouse using a package from MijnHostingPartner.nl, and it's also easy to set up the website yourself in other ways. All you need is some patience to learn how things work. But fortunately, with WordPress, this is a simple task. In fact, there are numerous tutorials, for example, on YouTube. And also in our knowledge base.
Themes that make your job easier
With pre-built themes in WordPress, you can easily ensure that your website is ready in no time, because with a theme, you can quickly make your website modern and appealing. Provided, of course, that you choose the right one. Themes can be selected directly from the WordPress admin environment and also installed with one click. Most of them can be used for free, but there are also a large number that you can buy. So, take a look at what you like on the website and what features you think are important. After that, you can try some of them and decide further.
Some streaming services and examples that you can integrate seamlessly.
For many artists, streaming services and other social networks are essential for distributing their content and works. This can also be seamlessly integrated into your website by embedding YouTube videos into your website, a Spotifiy playlist, or your latest Pinterest posts, for example. This way, your website visitors can be directed directly to your content and interact with it further.
Want to get started creating your website? Then quickly sign up for your SSD hosting package and register your domain name! For a small amount you can use your new package for as little as one year.