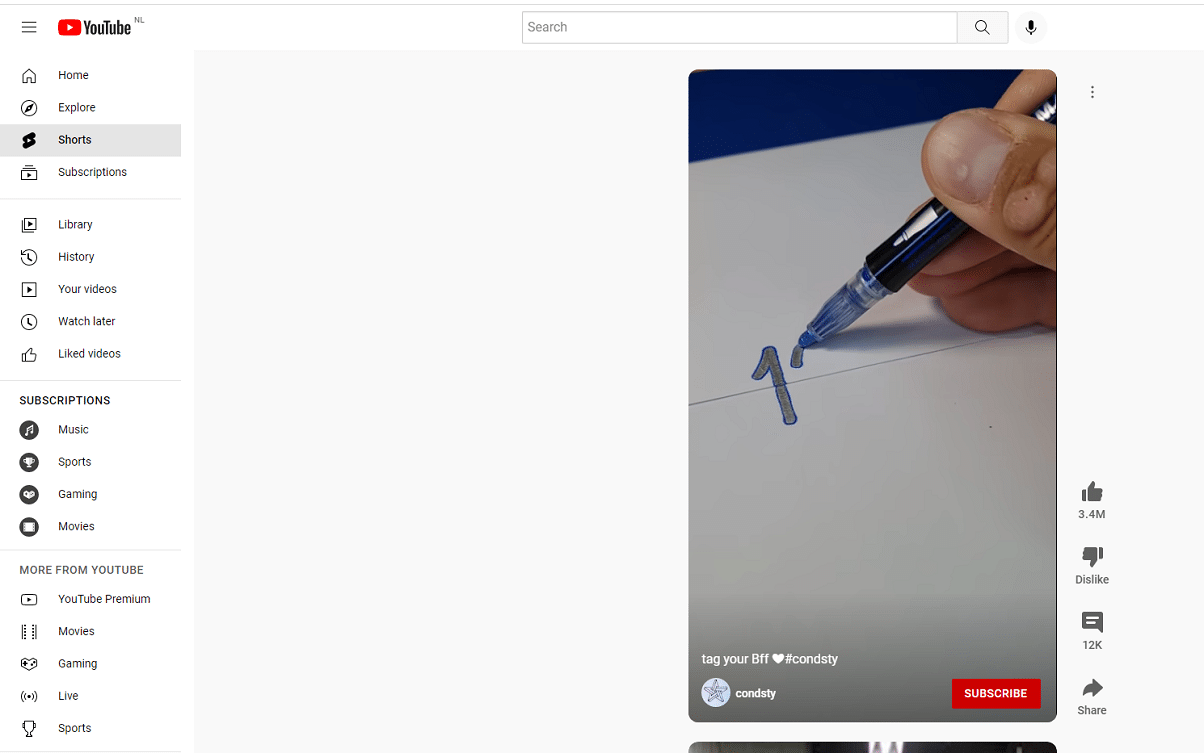 YouTube shorts 30 billion views per day
YouTube is a source of advertising and helpful information for customers and potential customers for many businesses. The power of social media will no longer be a secret to many, as YouTube is already used by most businesses to host some videos. Shorts are a relatively new development that can have a wide reach. Soon, it will also be possible to show your ads on them. Whether you want to create a YouTube short for your product or service or advertise in it. Let's take a look at this way of distributing content.
Shorter format and vertical display
With the advent of Instagram Stories and TikTok, content in shorter formats has exploded. YouTube Shorts is, of course, a direct response to serve this audience. One of the great advantages of YouTube is that it already has a large user base; anyone with a YouTube account can make a short film. A short film can be created by anyone who has a YouTube account, so it is created to provide helpful information or entertainment in a short form. Previously, it was not possible to place ads on it, only on the desktop. But now, advertising is coming to the shorts as well. This is positive for content creators, who can now use it to earn a regular income. And it is positive for the companies and organizations that want to advertise on these shorts.
The great success of this way of displaying content is that it is done within seconds and contains content that can be prepared as snacks. This is therefore popular on cell phones where the suspense curves are not as long as full screens. A shorter format of content is popular for a reason, as it reaches a large audience that will watch a video for a short time, scroll through it, and stay on the platform - which is, of course, the biggest goal of YouTube and other parties. An ad placed before or after a YouTube short film can provide a lot of impressions, even attracting attention altogether. Ideal for anyone running a video ad.
Made for mobile - adjust target audience accordingly
YouTube short films are made for cell phones and therefore have a large target audience. You can probably count the people you know who don't own a smartphone on one hand. If you can find one at all. YouTube has a huge audience and anyone who is there can also be your future customer. When it comes to Google ads on YouTube, choose the right audience and tailor your ad accordingly. Try using a short format or a vertical video, or come up with a hook that appeals to your target audience.
Experiment with different ads to find the right one. Since this is a relatively new form of content, you'll need a little more experience with it to make the most of it. Businesses that are already able to successfully use TikTok or Instagram Stories will be able to use a similar strategy.
Ads can be an effective tool for your business to attract new customers. To make the most of them, you need to keep a few things in mind. A website that you can send all your customers to with ads can give your website an edge over the competition. And attract a lot of customers. The advertising works for you, of course, as long as you pay the bill. And the great thing is that it can directly affect your results. Other methods, like trying to generate organic traffic, can sometimes take months, if not longer. So for many startups and other businesses that are just getting started, ads are often a good option. So with YouTube shorts, you have another option to reach your target audience. Be it for your revolutionary skateboard design, your new outfit, your new collection or a software package. Your target audience can be found and served in many different ways.
Do you want to get the most out of your website? Then take a hosting package at MijnHostingPartner.nl, or if you want to completely outsource your advertising and website, you can also take a look at MijnWebdesignPartner.nl! We will be happy to help you.