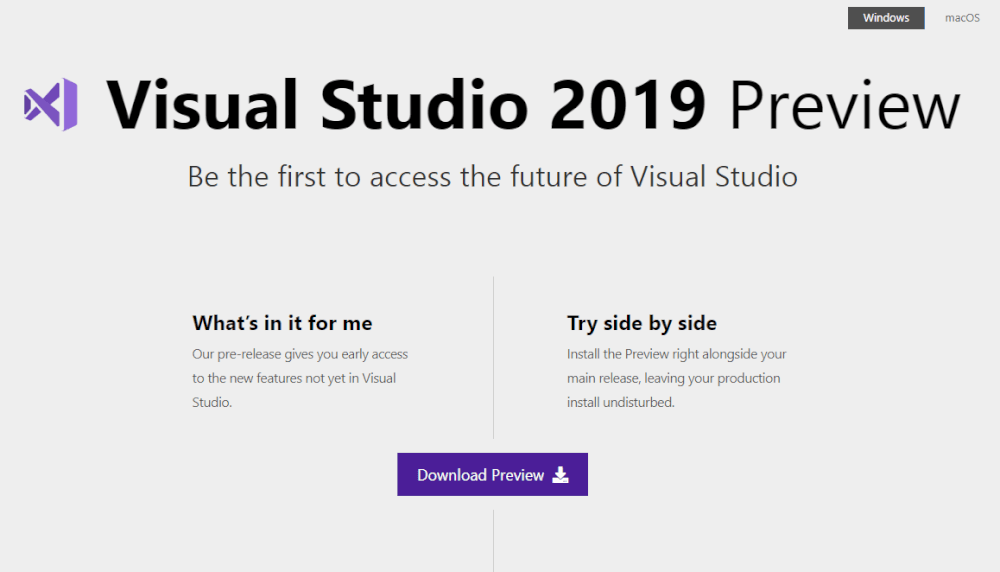 Visual Studio 2019
Visual Studio 2019
With our ASP.NET Core hosting we are the web host for all your projects in Visual Studio. Visual Studio most readers will already be familiar with. This is the developer program to use for all your projects within your Hosting. Whether it is an application for the local environment or a complex web application.
Microsoft Visual Studio is very versatile and can be used by anyone. With their licensing setup it is possible for both student and company to use this.Microsoft has recently announced Visual Studio 2019 which includes improvements. The improvements are mainly focused on the User Interface and some smart productivity tweaks.The Microsoft Visual Studio 2019 Preview 1 is now available for download and is the next full update of Microsoft Visual Studio.
Intellicode and new features
Microsoft Visual Studio is widely used to create web applications that are mostly also hosted at MijnHostingPartner.nl. Think also of many Umbraco hosting websites and nopCommerce websites that are hosted with us using Visual Studio. Visual Studio is also smarter than ever before in this update.
With automatic code cleanup and smart artificial intelligence, projects are easily cleaned up. The new artificial intelligence Intellicode included in this 2019 update teaches it to know your code and improve it where needed. If you prefer not to have this you can of course not use it.
Live Share
With live share you can work within projects live with your colleagues. Whether this is in the Netherlands or all over the world. There can now be collaborated with a push of a button. This is of course ideal if a colleague works at home for a day or has to make some quick adjustments while on vacation. .NET Core 3 When ASP.NET Core hosting is released we will also make ASP.NET Core 3 available as soon as possible on our Core hosting. With this you can immediately continue working on the latest technology on the hosting of MijnHostingPartner.nl.
Download the preview now
The preview of Microsoft Visual Studio 2019 is already available for download and testing. You can test it together with thousands of other developers in the community. If you still encounter bugs or extra features then Microsoft's forums are the place to report this.The preview can be downloaded via the following linkIf you want to learn more about this version update or talk about it with other developers we recommend that you take a look at Microsoft's blog post about this. Here are a number of enthusiastic developers ready to talk to you about it. And also a few less enthusiastic ones.