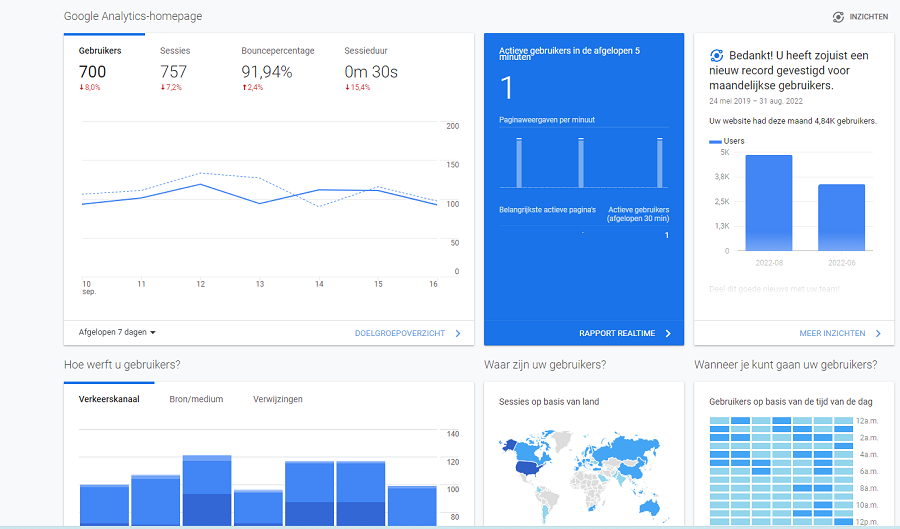 Universal as a replacement for Google Analytics
As you may have already seen in Universal Google Analytics profiles and projects, this feature will be completely eliminated in July 2023. New data and data will then no longer be processed by the parties, and your old property will no longer have any function in this regard. So you will have no choice but to switch to Google Analytics 4 or an alternative. You can find out how to do this in this article. And what you need to keep in mind when doing so.
Switching to Google Analytics 4
Many users will choose to switch to Google Analytics 4 because it is Google's own follow up that you can enable. However, switching to Google Analytics 4 is not 1 2 3 done, as this requires you to create a Google Analytics 4 property in addition to the Universal property and then link it to your website. It is generally recommended that you keep both properties side by side for at least another month and continue to collect data for both. During this transition period, you can then ensure that your website hosting is at least still collecting the statistics. Even if something goes wrong with one.
Once you've created your Google Analytics 4 property, you'll need to update the tracking code in your website header or footer. And then you collect the data. I've found that using the new Google Analytics takes a little getting used to. After all, there's a lot to discover in a new place.
Quite a few users will also be looking for another way to track statistics, as the new features of Google Analytics 4 are not popular with everyone. More and more people are also paying attention to the data used and how it relates to AVG legislation.
Microsoft Clarity is the alternative to Google Universal Analytics, it also allows a bit more than other solutions. It also supports session replay. It's an interesting tool that allows you to see exactly how a user interacted with your website. So it can tell if an image needs to be changed, if a button needs to be changed, and much more. With Microsoft Clarity, you can also easily use it for free. Just like Google Universal Analytics and 4.
Microsoft Clarity does have a bit of a cluttered page view, but I say that from my experience, you can of course find it clutter free. Just install it now like you did with Google Analytics.
Matomo Analytics is a bit more similar to Google Universal Analytics and is a good replacement for those moving away from Google Universal Analytics. The big advantage of Matomo is that it can be hosted locally. Therefore, you don't have to load or store any external sources. So you still own the data that is being processed as well. Of course, these can also benefit from the AVG and other global legislation.
Koko Analytics for WordPress users
If you are looking for an easy way to collect statistics that you can install directly through WordPress, you can also check out Koko Analytics. This is a plug-and-play option developed by the same people behind MailChimp and other incredibly popular plugins.
With Koko Analytics, you can be up and running with WordPress and its stats in no time, without having to do any complicated settings. Ideal for many WordPress webmasters who don't need all the technical stuff or are interested in the statistics that Google Analytics collects.
Have you already switched to Google Analytics 4 with all your websites? Or do you need to do so before July 2023? Don't be late and schedule it for yourself this year. The sooner you deal with it, the lower the risk of data loss. You also have the option to switch to one of the alternatives. Let us know what you're going to do via social media!