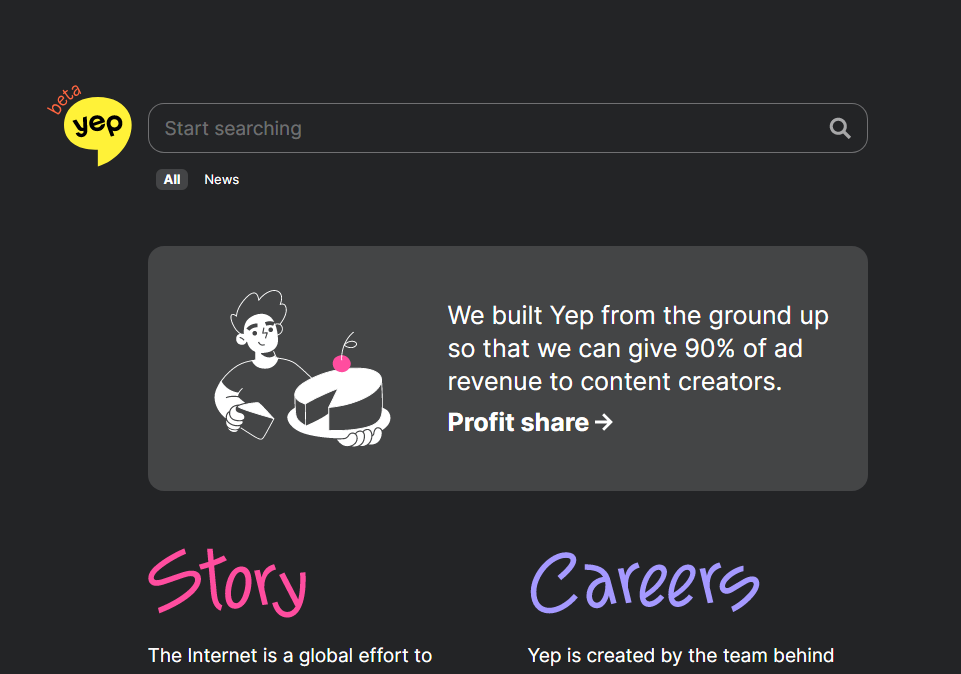 New search engine Yep
From time to time a new search engine comes along, because Google is not the only way to search the Internet. There are some veterans like Bing and now DuckDuckGo. And newer ones like Brave Search and a few other alternatives. However, many of the new search engines have also been discontinued. Mainly for the reason that Google has a huge market share. This makes it difficult to convince users to switch.
Yep is similar to Brave Search in many ways. In this blog post, we will introduce you to this new search engine from the makers of the well-known SEO tool Ahrefs!
The company behind Yep, Ahrefs.
Yep is not a startup, but an initiative of the successful company Ahrefs. Ahrefs is one of the most used SEO or search engine optimization tools on the market. It tracks your positions on Google and how your website is performing. You can also use it to automate advanced tasks on your website and, for example, have it run a weekly website hosting scan that immediately alerts you to problems with your website. You do this with a bot or crawler. This crawler is roughly comparable to the crawler of Google or Bing itself. These are robots that travel the Internet to index and, in the case of Google and Bing, rank information to get the best results in a search. Ahrefs uses this with its SEO tool to highlight issues on a website and further investigate how a website is performing.
In 2019, Ahrefs announced they were launching a search engine as well, as they obviously wanted to do something different than Google. Below is what exactly they want to do differently with their alternative, Yep.
What's different about Yep?
Yep already has an advantage over many other Google alternatives, namely a short and memorable domain name. Perhaps not entirely conclusive, but still nice and easy to remember. Yep also uses its own crawler, currently called Ahrefsbot, but will eventually get its own crawler called Yepbot. Many Google or Bing alternatives use this data. DuckDuckGo, Ecosia and many others use Bing's search results but add their own touch. All in all, though, you're still somewhat tied to the main party here. Yep uses its own crawler for this and, as far as I can tell, its own code and algorithm. They also claim that they don't use any data from outside parties.
More revenue for content creators
One of the main selling points for Yep is the promise to share up to 90% of search engine advertising revenue with content creators or developers. Wikipedia, which is forced to beg for donations every now and then, is cited as an example. With the pure revenue from search and findability on Yep, this would be a thing of the past. So the more content you can place on search engines and offer to users, the more revenue you can generate.
The actual plan for this is noble, of course, but how this will work in practice is the second question. And an even bigger question is whether the average user will be motivated to use the search engine for this purpose. They probably don't even know that there is an alternative to Google, and more importantly, they don't know how a webmaster makes a living.
So Yep would theoretically make you less dependent on the traditional methods of earning revenue from a website. Most importantly, the content that is only made for affiliation and advertising can then be replaced with content that can provide more value. More value in content instead of "top 10 shock moments from ....." and so on. The focus then needs to be less on clickbait and more on providing value to users.
Practice will have to show how successful this will be. However, the concept is interesting for many different types of web marketers. For companies and people who sell products directly, it might be less interesting. But for the content webmaster, this could be a good motivator. Time will tell.
As with many other search engines, privacy plays a big role in the search engine. So no profile is created with your search behavior and preferences. Your exact IP address and other user information is not recorded. The only information that is stored is the search query itself, the preferred language of the browser and finally the approximate location based on your IP address. Search queries that do not take location into account are often not effective enough. Or extremely useful.
Protecting the privacy of your searches doesn't have to rely solely on Yep, however. DuckDuckGo and Brave Search have made this more of a focus. See our previous blog posts for our articles on these search engines.
All in all, it's a good development to have another alternative, as Google has a monopoly on this market. And it has already shown with a number of developments that it doesn't always handle this position very well. As in many markets, competition is a healthy development. That's why we put this search engine on the list to keep an eye on. Take a look at how your website can be found in this search engine and use Yep to yeppen now!